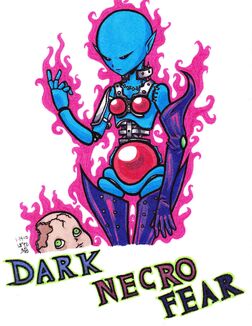 Well, this is my deck. I have no idea what sort of deck type it is, because I've used so many different combos and stuff in it. I guess you could either call it a Fiend deck or a Destiny Board deck, but... I don't know. And yes, I've realized that my deck is ridiculously large. However, every card I have goes miraculously well with all the others cards, and I feel I am in no need of taking cards out.
Cards I Use In This Deck
Edit
Dark Necrofear x2
Great Maju Garzett
Helpoemer x2
Dark Ruler Ha Des x2
Marshmallon
D.D. Warrior Lady
The Masked Beast
Mask of Darkness
Magician of Faith
Earthbound Spirit x2
Summoned Skull
Sangan
Newdoria
Power Invader
Protector of the Sanctuary
Invader of the Throne
Cyber Jar
Fiber Jar
Wall of Illusion
Night Assailant
The Wicked Avatar
Section heading
Edit
Write the second section of your article here.
Ad blocker interference detected!
Wikia is a free-to-use site that makes money from advertising. We have a modified experience for viewers using ad blockers

Wikia is not accessible if you've made further modifications. Remove the custom ad blocker rule(s) and the page will load as expected.