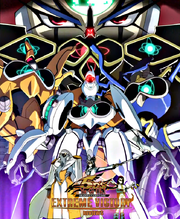 Meklords can be very usefull in many decks, usually with the Scrap archtype, however, there is a way to make the deck be competitive and act as a lethal weapon. Here is a decklist I have come to know and love over the past year.
Monsters(19):
x2 Malefic Cyber End Dragon
x3 Ancient Gear Gadjiltron Dragon
x3 Meklord Army of Wisel
x3 Meklord Army of Skiel
x3 Meklord Army of Granel
x3 Meklord Emperor Granel
x1 Meklord Emperor Wisel
x1 Reflect Bounder
Spells(15):
x1 Dark Hole
x1 Card Destruction
x1 Heavy Storm
x1 Limiter Removal
x1 Monster Reborn
x2 Hand Destruction
x2 Terraforming
x3 Gear Town
x3 Meklord Fortress
Traps(7):
x1 Solemn Judgment
x2 Chaos Infinity
x2 Mektimed Blast
x1 Mirror Force
x1 Malevolent Catastrophe
Extra(3):
x3 Cyber End Dragon
The main goal of the deck is to gain off of the destructive effects of card effects like solemn judgment, dark hole, etc, to summon your meklord emperors.
Leave some feedback about the deck! Thanks for veiwing this page!
Ad blocker interference detected!
Wikia is a free-to-use site that makes money from advertising. We have a modified experience for viewers using ad blockers

Wikia is not accessible if you've made further modifications. Remove the custom ad blocker rule(s) and the page will load as expected.