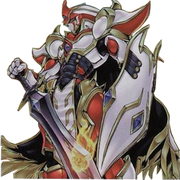 p { margin-bottom: 0.08in; }
Legendary WarriorsEdit
This is a Deck of Warriors (mainly.) It is a deck that focuses on, well, getting rid of your opponents Monsters very quickly, Synchro and Fusion Summoing efficiently, and powering up your own Monsters.
Main Deck
Normal Monsters
Tune Warrior

Gaia the Fierce Knight

Queen's Knight

Jack's Knight

Curse of Dragon

Effect Monsters
Sword Hunter

XX-Saber Gardestrike

Commander Gottoms, Swordmaster

Exiled Force

Quickdraw Synchron

D. D. Warrior Lady

Marauding Captain x2

XX-Saber Fullhelmknight

Silent Swordsman LV3

Silent Swordsman LV5

Silent Swordsman LV7

XX-Saber Faultroll x2

X-Saber Airbellum

XX-Saber Ragigrua x2

Obnoxious Celtic Guard

King's Knight

Strike Ninja

Mystic Swordsman LV2

Mystic Swordsman LV4

Mystic Swordsman LV6

Evocator Chevalier

Masaki the Legendary Swordsman

Flame Manipulator

Quillbolt Hedgehog

Gearfried The Iron Knight

Gearfried The Swordmaster

Phoenix Gearfried

Gemini Soldier

Colossal Fighter-Assault Mode

Level Eater

Spells
Reinforcement of the Army

The Warrior Returning Alive

Block Attack

Stop Defense

Polymerization

Saber Slash

Release Restraint

Field Spells
Sogen

Continuous Spells
Banner of Courage

Spiral Spear Strike

Field Barrier

Equip Spells
Divine Sword – Phoenix Blade

Big Bang Shot

Quick-Play Spells
My Body as a Shield

Traps
Dimensional Prison

Rope of Life

Kunai With Chain

Saber Hole

Gottoms Emergency Call

Assault Mode Activate

Extra Deck
Fusion Monsters
Gaia, The Dragon Champion

Gaia Drake, The Universal Force

Flame Swordsman

Synchro Monsters
Drill Warrior

Gaia Knight, The Force of Earth x2

Colossal Fighter

XX-Saber Gottoms

XX-Saber Hyunlei

Seven Swords Warrior

Junk Warrior

Turbo Warrior

Nitro Warrior

Road Warrior

Exceed Monsters
No. 39 Aspiring Emperor Hope

Side Deck
Effect Monsters
Buster Blader

Getsu Fuhma

G.B. Hunter

Swift Gaia The Fierce Knight

Traps
Dragon Capture Jar

The Dark Door

Scrap – Iron Scarecrow

Synchro Monsters
Scarred Warrior
Ad blocker interference detected!
Wikia is a free-to-use site that makes money from advertising. We have a modified experience for viewers using ad blockers

Wikia is not accessible if you've made further modifications. Remove the custom ad blocker rule(s) and the page will load as expected.