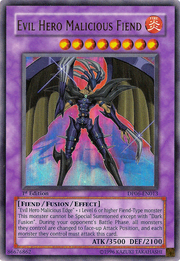 This evil/elemental hero deck consists of two of every card and they are
Avain
,
burstinatrix, bubbleman, clayman, wildheart, sparkman, and neos. Now Bladedge, Necroshade, Prisma, Heat, and Lady Heat. <u>
I</u>
added some new and old school cards to this deck so it would be any elemental deck instead. the other<u> </u>
cards are 3 blue-eyes white dragon, Blue-eyes shining dragon, the wicked avatar, Gorz the Emissary of Darkness, Jack's, Queen's and King's Knight, the Earth-hex-sealed fusion, black luster soldier. and the two neo-spacians
are Flare scarab, aqua dolphin, air humming bird. the spells you can use are any ones that are useful in the deck. the
traps are the same as the spells so use any that aren't forbidden. the fusions are Dargon Master Knight, Arcana Knight Joker, Blue-eyes Ultimate Dragon and any evil or elemental hero cards.
Ad blocker interference detected!
Wikia is a free-to-use site that makes money from advertising. We have a modified experience for viewers using ad blockers

Wikia is not accessible if you've made further modifications. Remove the custom ad blocker rule(s) and the page will load as expected.